International Search Engine Optimization is one of the best ways to promote your business. The global market can be compared to an endless ocean of opportunities. You can choose the target country, start the digital adventure, and grow your business – all within an extremely short time frame. However, this will only happen if you have the most accurate geotargeting and do effective SEO.
And to show you that something like this is possible, in this article, we conducted a case study on the example of a client on the American market – BLVCKS.COM, an online shop for clothing and accessories.

SEO works combined with other marketing channels, helped us increase its online visibility.
Implemented SEO steps
The increased demand for certain products and, respectively, the thousands and tens of thousands of monthly searches on certain keywords and phrases were exactly the things we had in mind when we started optimizing the BLVCKS website.
So, which steps we took, to bring the client good positioning on high competitive keywords and increased visibility in the online environment? We started with a well-defined SEO strategy and relevant SEO procedures for the improvement of the website.
Step I
We checked the technical and functional parameters of the website ( presence of errors on the pages, presence of an XML sitemap, website's speed, optimization for mobile devices, duplicate content, etc.).
Niche competitor's analysis (strengths and weaknesses, keywords positioning)
We identified and analyzed the current positions on search engines like Google, Yahoo, and Bing.
Step II
We approached a complex strategy to identify keywords, based on a comprehensive analysis and study of niche competitors (specific keywords, page and domain authority, backlinks). We choose only those keywords that had advantageous metrics for the following: search volume, ranking difficulty, search relevance, search intent, etc. Finally, we were able to determine those keywords that subsequently increased the number of conversions (Note: see below what results were achieved).
On-Page SEO optimization (these works were mainly focused on optimizing the categories and product pages by correctly distributing and placing the keywords: in the page URL, the H1 title, the ALT tag, product description text, in the title and meta description of the SEO tags).
Off-Page SEO optimization (we used the most important and relevant online promotion resources suited for an online store; writing and publishing quality content on blogs, niche sites, social networks, as well as including the site in international directories, etc.).
Step III
  We continuously monitored the keywords' positions and identified new opportunities to improve rankings.
Below are shown keywords top positions: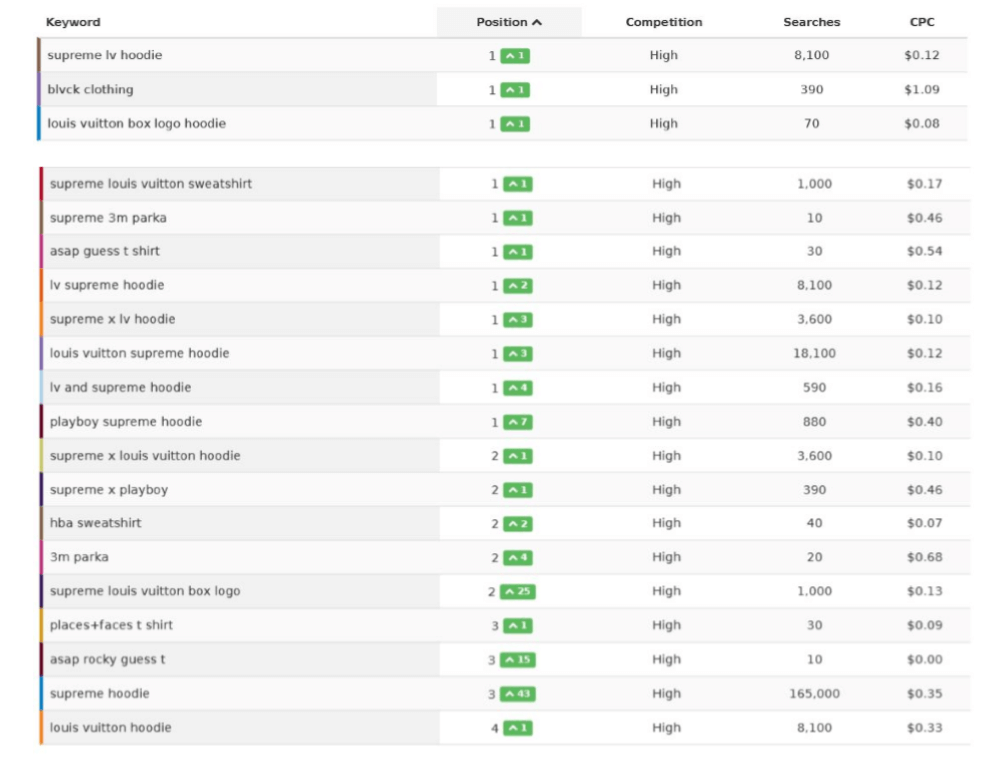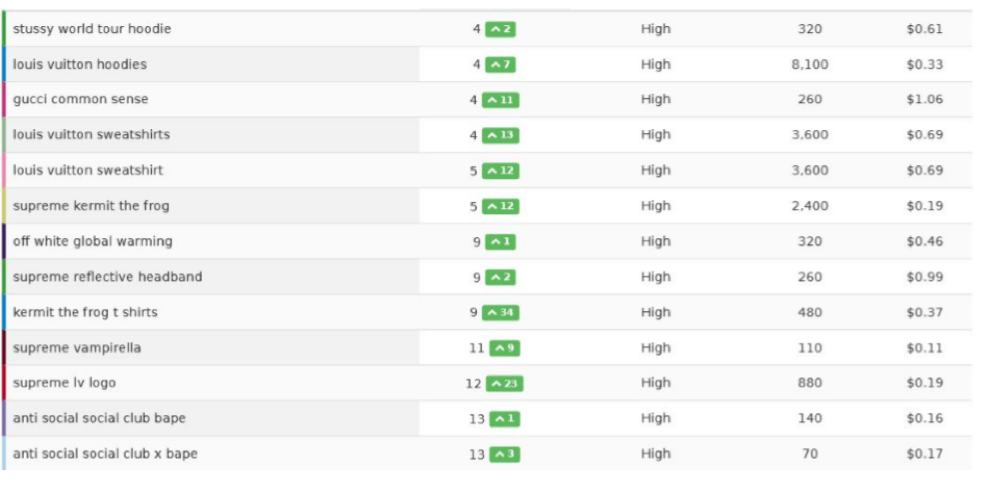 In the case of BLVCKS.COM, we opted for "long tail" keywords with a search volume of hundreds and thousands, with navigational search intent. This type of search has the highest probability of conversion.
In addition to increasing keywords positions, we have increased the number of organic traffic by 20 times. Pretty good result, isn't it? Attracting the right visitors was a complex mission, but essentially simple, taking into account users' search preferences and habits.
The  implemented SEO services have acted beneficially, thus increasing the visibility metrics in the online environment (+ 18.56%), and the statistics below demonstrate this:

Our mission was to help the customer get as close to his clients as possible. Increasing the rate of visibility, in this case, played an important role in increasing sales. Efficient search engine optimization has been our strong point in achieving excellent results for an international customer, and the numbers speak for themselves.
Below are shown comparison charts for November 2018 vs. November 2019. Here you can compare the number of visitors, the length of a session, and, of course, the bounce rate of the Blvcks.com page.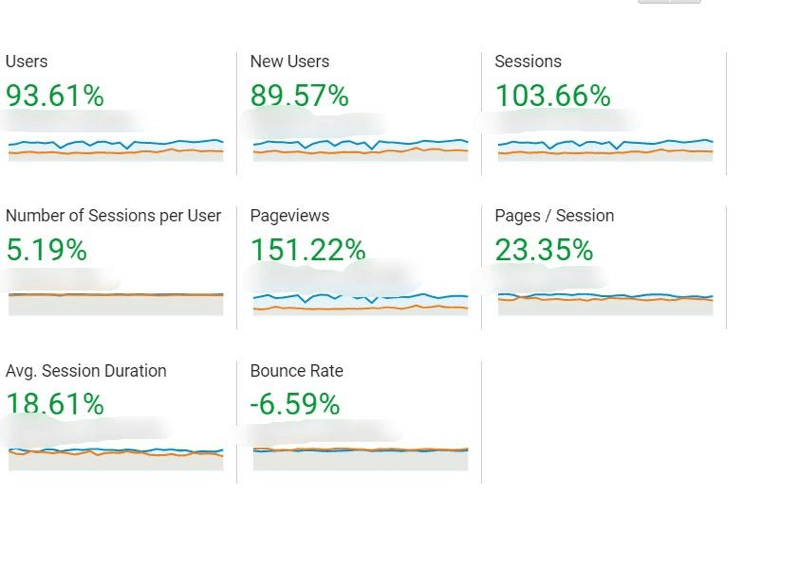 How users accessed the client's website?
Below is a list of the channels through which users accessed the Blvcks.com site during SEO works. Organic traffic increased by 20 times compared to the period before the beginning of the works.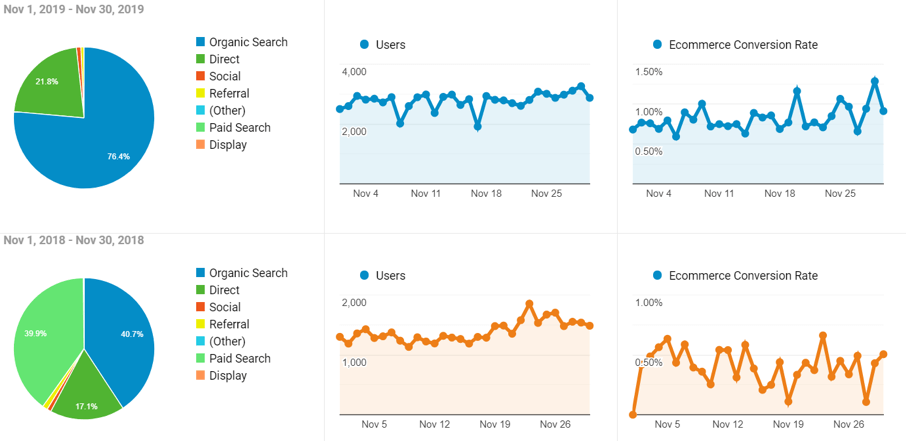 As you can see, social media promotion has not played a major role in gaining increased traffic, compared to the crucial role played by SEO and the organic traffic gained from SEO promotion. Also, here you have a comparison between the conversion rate in the same reference period.
When it comes to an online shop, we focus on showing the percentage of sales (transactions and income).
The statistics show that the number of sales has increased by almost 4 times, and the percentage of income related to it shows us even better figures. It turns out that users made more expensive purchases than the previous ones, and this is due to the optimization of the content on the website and off-page SEO.
Now, when you've seen what SEO results bring, do you still think your business doesn't need that kind of promotion? Do you think you can only promote yourself through Facebook distribution and street marketing? Find out that the online world brings you many other possibilities for growing your business. We are here to help you grow organically, without penalties from search engines, and only with measurable results.
If you want to find out how much SEO promotion costs and what digital marketing services consist of, contact us at + 373 69 809 235 (R. Moldova) or +40 720 625 788 (Romania), and we will get back to you with an individual SEO offer for your website.